Resident of the least visited state in the nation.
Over the past few months I got into a series of books by James S.A. Corey. It turns out that this is the pen name for two different men who write different chapters in their novels. The men don't even live in the same area. The differing writing styles actually work since the chapters are through the eyes of different characters.
It's a fairly hard science fiction series of novels. They make the effort to have realistic science, though they also have alien technology. The hero of the series has 8 parents (a complicated genetic thing) but he's a Montana farm boy, so he's almost cool. North Dakota is always better. His love interest is a Belter: she was born and raised in space, with all the physical effects that would have. There is no artificial gravity in this series. She can never visit Montana to meet his parents because the gravity of Earth would kill her. I was fascinated by a Belter character who was tortured simply by being brought to Earth where he struggled to even breathe.
The series is about an alien "protomolecule" which was placed in the system millions of years ago. It ended up on a moon by accident. However, what it does is assemble raw materials into larger structures. Living humans become raw materials around this molecule. It eventually takes over the colony on Eros (about 1 million people at this time). Yes, the people become raw material. The hero witnesses enough of this that years later, he still suffers PTSD from the horrors.
All of this was pretty cool. However, it also became a TV series on a cable network. I caught it on Amazon Prime.
Trailer:
Here is a longer form trailer:
This space battle is effective because of the particularly sudden death of someone who appeared to be a main character. The blood splash (not in this video) later is especially spooky as gravity is restored after the body has been bleeding a while.
Not the splash, but preceding it.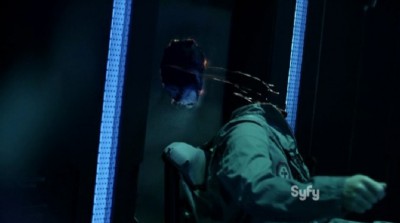 The first novel and this series have two protagonists. The one on the left is a police detective, and not a very good one. However, he gets wrapped up in a case and starts to take it personally. The one on the left is the guy from Montana. He's naive, but smart.
This is the crew of the ship which stars in the novel. From left to right are the hero's love interest, the muscle man, the hero, and the smart-aleck.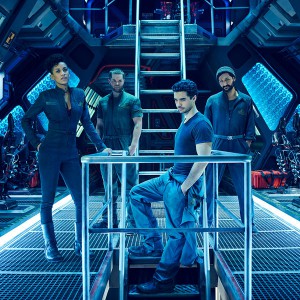 I've probably said it already, but what really excites me about this series, besides the story, is the attention paid to scientific detail.